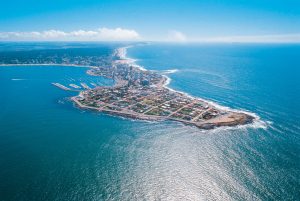 Uruguay is well known for its almost legendary football, but did you know that this country, lying between two big nations to the south of Latin America, is also considered one of the best places in the world to live, work and do business?
Not only was Uruguay the host of the first ever World Cup back in 1930, but it also won! And Uruguay bagged the trophy a second time in 1950 in a historic final against Brazil known as the "Maracanazo". But that's not all you need to know about Uruguay.
Did you know that Uruguay has 3.5 cows per person – the highest ratio in the world – and legalized the production of cannabis as a public health and safety policy?
Did you know that Uruguay is now the most equitable country with the highest income levels in Latin America? The Uruguayan economy grew steadily in the last fifteen years, at an average rate of 4.3%. The World Bank says Uruguay is the country with the biggest middle class in the region today.
According to the Mercer ranking, Montevideo is the city with the best quality of life in the region. Its level of development matches the great European cities, though its charm lies in its modest and peaceful lifestyle treasured by locals and which captivates more and more foreign visitors who end up choosing it as their second home.
Uruguay boasts a high-quality, stable democracy. It's also ranked number 1 in Latin America for transparency, democracy, rule of law, equity and prosperity, and for low corruption perception, in numerous international rankings compiled by Uruguay XII, the agency that promotes investment, exports and the country's brand.
A good word to define Uruguay is inclusive. It was the first country to develop the One Laptop Per Child program and the only one which provides free computers to ALL primary and secondary school children and teachers in state schools. The 2016 ICT Development Index named Uruguay the most advanced country in Latin America thanks to its unwavering dedication to universal digital coverage. In 2018 Uruguay became part of the D7 — made up of the world's leading digital nations, alongside Canada, South Korea, Estonia, Israel, New Zealand and the UK.
Did you know that another Uruguayan win has been to restructure its energy grid towards clean and renewable sources mandated by government policy?
Uruguay has the world's highest investment in clean energies. In 2017, ninety-eight percent of its electricity was generated through renewable energy sources including 31% from the wind, making it the fourth country in the world in the production of wind-generated energy.
Uruguayan beef is highly regarded by the world's most demanding consumers. Its fame owed to traditional practices, free-range pasturing and state of the art animal health techniques. High tech is also applied to beef production, including 100% digital traceability by law of every cow.
And did you know that agro intelligence is also an essential element in Uruguay's strategy to be the number one choice of the world's consumers of wine, olive oil, citrus, blueberries, honey and caviar, among others? It's part of their prioritising of food quality, health and safety.
For these reasons, plus a strategic location, abundant local talent and exceptional business climate, Uruguay is one of the most prosperous countries in Latin America, and a great choice for foreigners to live, work and invest.
http://atlantikagroup.com/wp-content/uploads/2017/04/Logo_atlantika-2-300x75.png
0
0
atlantik_wp
http://atlantikagroup.com/wp-content/uploads/2017/04/Logo_atlantika-2-300x75.png
atlantik_wp
2018-06-20 11:51:47
2018-08-28 12:36:14
URUGUAY: Not only Football!!!